Over the years, Lowe's Home Improvement, a Fortune 50 company and a major home improvement retailer, had developed a wide variety of their own proprietary brands, sold across many product categories.
Opportunity
Many of the proprietary brands lacked a clear value proposition for customers or had a questionable fit within the product assortment.  A need existed to assess the overall brand portfolio to determine how to best utilize and leverage their own brands to maximize their potential to meet both customer needs and corporate goals.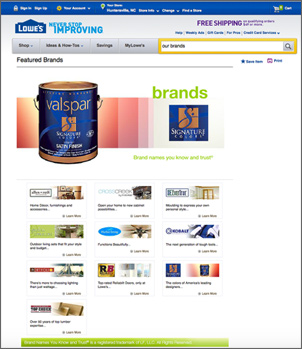 What We Did
After in depth study of their current store-owned brands as well as the national brands offered, an action plan was developed for the entire brand portfolio.
Proprietary brands were either re-launched, consolidated or eliminated, based on how well they met various business objectives, sales goals, as well as how well they fulfilled customer needs.  For those brands that were retained, their purpose and fit within the overall brand portfolio was defined and a full strategic brand framework, including positioning, and a new visual and verbal brand identity, was developed.
Results
Lowe's owned brands are now better able meet customer needs, and its proprietary brands don't just generate sales, they've also helped to better differentiate the retailer from its competitors.
Project Elements
Strategic brand, category and competitive audits

Brand portfolio assessment

Brand strategy

Licensing opportunity assessment

Brand portfolio optimization

Brand consolidation & elimination

Brand repositioning, redesign & relaunch

Brand characteristics & tone of voice

Brand stories

Verbal identies & brand messaging

Led logo & packaging development

Visual boards
* This work was completed by Brand Verbalist staff while working for a prior agency