Domtar, a leading US producer of pulp and paper, purchased the rights to the Xerox paper category within the US and Canada.  As a manufacturer of predominantly private brands, they faced the challenge of how to integrate a highly recognized brand into their own business operations, and to develop the tools needed to effectively market and grow a national level brand.
Opportunity
Although Xerox was a well-recognized global brand with strong consumer recognition, the brand's heritage and legacy was so strongly tied to equipment that there was little awareness or relevance for the brand within the paper category.
An extremely broad offering made the product line difficult to navigate, and packaging across the line was inconsistent and need of a refresh.  Both packaging language and brand messaging within the category needed to be updated for broader understanding and appeal.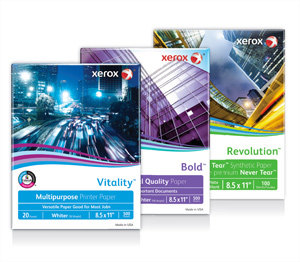 What We Did
A new brand strategy was developed, as well as a brand architecture that included three new product families, each falling under an umbrella positioning for the entire Xerox Paper & Specialty Media line.
The packaging look and design was modernized to better reflect the professional nature of the brand, and a new communication approach was implemented to drive both simplicity and clarity.
Verbal Identity elements were developed so that the naming, messaging and tonality, not only fit within the Xerox corporate guidelines, but also reflected some of Domtar's strengths as a manufacturer and supplier.
Results
The line was transformed into a more approachable, relevant and broadly appealing brand within the paper category, and all of the changes were well received by both customers and end users.
Domtar gained significant new product placement within retail, including office supply and drug channels, and had renewed interest from both business as well as commercial printing customers.
Project Elements
Brand strategy

Brand architecture

Naming

Brand Positioning

Brand messaging & copywriting

Creative resourcing

Logo & packaging

Development of growth strategies

Brand videos

Print ads

Retail sell-in

Brand guidelines